Description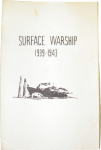 Surface Warship Miniatures Rules is a tabletop miniatures strategy and tactics wargame set of rules for Naval Gaming during World War II. This long out of print rules was published in 1970 by Arnold J. Hendrick. If you are a Naval Gamer, or Miniatures Enthusiast this is a great find.
From the inside cover:
Surface Warship 1939-1943 is rules and equipment for tactical World War II naval tabletop simulation games. The author is solely responsible for the content of the rules. The assistance of the following people is gratefully acknowledged: Bert Leighton USN, Mike Smith, Dick Bryant (editor of The Courier), Peter Lowry, and a host of patient play-testors.
Surface Warship Miniatures Rules for Tabletop gaming
This tabletop miniatures game rule is not available for game rental. Pick up your copy before it's gone.
Condition:
G/G
MFG:
Arnold J. Hendrick
SKU:
GSE80000
Year:
1970
ITEM:
MGSWAH
Printing:
Believed to be 1st print.
Rental Fee:
NA
Credit:
NA
Grading Scale
Every item in our inventory has been inspected, very strictly graded, and bagged for its protection.
SW Shrink Wrapped. Still in the original factory shrink wrap, with condition visible through shrink noted. For Example, "SW (NM)" means shrink wrapped in near-mint condition.
Mint Perfect. Brand new.
NM "Near Mint. Like new with only the slightest wear, many times indistinguishable from a Mint item. Board games in this condition may be played but show little to no wear." Close to perfect, very collectible.
Ex Excellent Condition.
Lightly used, but almost like new. May show very small spine creases or slight corner wear. Absolutely no tears and no marks, a collectible condition.
VG Very Good. Used.
May have small sized creases, scuff marks, very small stain, etc.
Complete and very useable.
G Good.
May have medium creases, scuffs, or stains, etc. Complete, but worn. Box worn not broken. Parts aren't missing, may be slightly damaged. Great choice for the gamer, less so the collector.
Fair Very well used, but complete and useable.
May have flaws such as tears, pen marks or highlighting, large creases, stains, marks, a loose map, etc.
Poor Extremely well used and has major flaws, which may be too numerous to mention. Item is complete unless noted.
Notes:
1.) Boxed items are listed as "code/code" where the first code represents the box, and the second code describes the contents. When only one condition is listed, then the box and contents are in
the same condition.
2.) A "plus" sign indicates that an item is close to the nExt highest condition. Example, Ex+ is an item between Excellent and Near Mint condition. A "minus" sign indicates the opposite.
3.) Major defects and/or missing components are noted separately.
4.) Boardgame counters are punched, unless noted. Due to the nature of loose counters, if a game is unplayable it may be returned for a refund of the purchase price. Customer pays shipping to us.
5.) In most cases, boxed games and box sets do not come with dice.
6.) The cardboard backing of miniature packs is not graded. If Excessively worn, they will be marked as "card worn."
7.) Flat trays for SPI games are not graded, and have the usual problems. If Excessively worn, they will be marked as "tray worn."
8.) If you have any questions or comments regarding grading or anything else, please send e-mail to info at gypseegames dot com and we will be happy to assist you.