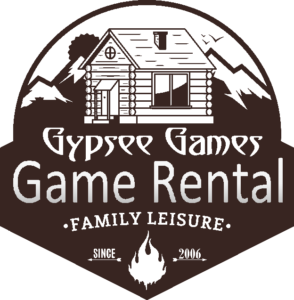 Game Rental Program is now an option! Rent OOP & Used Games. It's not every day that you run across a FLOGS that offers you the ability to rent games that are Out Of Print or slightly used.
"Gypsee say: Huh… Karl, what if they are just a slow mover or simply a great game? Can they rent those?"
"I'm glad you brought that up Gypsee. Howdie folks! Karl here to tell you all the wonders of "Renting a Game From GSE!". So let's say  you're pursing the enormous selection of OOP Games. And you run across an old SPI Board Game title that you'd love to play but just don't want to commit to buying a $200.00 OOP Game. Who can blame you? If you're not a collector of old SPI or other long gone game manufacturers why would you want to collect something that you're simply going to have to sell again. That's where the
Gypsee Games (GSE) Rental Program comes in.
Game Titles will have a GSE Rental in the title. This indicates the game can be rented. The Rental Fee listed is the cost to rent the game. The process is simple. You buy the game for the purchase price. Once you return the game in the same condition it was mailed to you you receive a refund (minus the Rental Fee and Shipping). If you decide you want to keep the game you do nothing, because you've already paid for the game. If you decide to return the game you'll receive a refund to your PayPal account (or we'll mail you a check if you don't have a PayPal account). It's that simple. You buy the game, and  then return it to us, we refund your purchase price minus shipping and the rental fee. No fuss no muss… easy breezy.
Let's look at an example:
You want to rent the game Tidl Wink. It lists Rental Fee as $5.00. The cost to purchase the game is $15.00. You pay the $15.00 + shipping. And we ship you the game. You own it, lock/stock/AND Barrel. So you've played it for a few months and everyone in your game group is Tidled out. Now you want to return the game. No problem. You simply pay the shipping cost to return the game to us. You MUST return the Information Tag that was included in the game when returning it.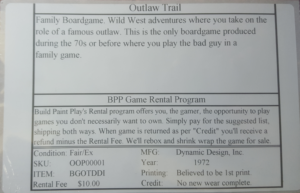 Information Tag
To the left is an example of the Information Tag. It will be inside the shrink wrap of the game when you receive it, not inside the box, but on the front. That's how we display the game at Game Convention so people can see the information quickly.
Rental recap of the program:
GSE's Rental program offers you, the gamer, the opportunity to play games you don't necessarily want to own. Simply pay the list price, and shipping (both ways). When we receive the game back you'll get a refund for the purchase price of the game minus the listed Rental Fee. Keep in mind, the game must be returned with the Information Tag and is the same condition it was sent out to you. Take a look at this game.
Gypsee's Rental Grading Scale
Every item in our inventory has been inspected, very strictly graded, and bagged for its protection.
SW: Shrink Wrapped. Still in the original factory shrink wrap, with condition visible through
shrink noted. For Example, "SW (NM)" means shrink wrapped in near-mint condition.
M: Mint Perfect. Brand new.
NM: "Near Mint. Like new with only the slightest wear, many times indistinguishable from a Mint item. Board games in this condition may be played but show little to no wear."  Close to perfect, very collectible.
Ex: Excellent. Lightly used, but almost like new. May show very small spine creases or slight corner wear. Absolutely no tears and no marks, a collectible condition.
VG: Very Good. Used. May have small sized creases, scuff marks, very small stain, etc. Complete and very usable.
G: Good. May have medium creases, scuffs or stains, etc. Complete, but worn. Box worn not broken. Parts aren't missing, may be slightly damaged. Great choice for the gamer, not the collector.
F: Fair. Very well used, but complete and usable. May have flaws such as tears, pen marks or highlighting, large creases, stains, marks, a loose map, etc. Parts may be broken but all there.
P: Poor. Extremely well used and has major flaws, which may be too numerous to mention. Item is
complete unless noted.
UC: Unchecked. Box just received and not checked in. Will sell as is at standard list. Buyer assumes all responsibility for condition.
Boxed items are listed as "code/code" where the first code represents the box, and the second
code describes the contents. When only one condition is listed, then the box and contents are in
the same condition.
A "plus" sign indicates that an item is close to the Next highest condition. Example, Ex+ is an item between Excellent and Near Mint condition. A "minus" sign indicates the opposite.
Major defects and/or missing components are noted separately.
Boardgame counters are punched, unless noted. Due to the nature of loose counters, if a game is unplayable it may be returned for a refund of the purchase price.
In most cases, boxed games and box sets do not come with dice.
The cardboard backing of miniature packs is not graded. If Excessively worn, they will be marked as "card worn."
Flat trays for SPI games are not graded, and have the usual problems. If Excessively worn, they will be marked as "tray worn."
If you have any questions or comments regarding grading or anything else, please send e-mail to info at gypseegames dot com.