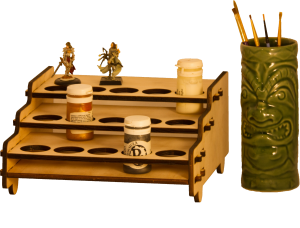 Paint Racks – Artists and Crafters alike, now you can have your dream collection of paint racks. Check out  Gypsee Games' products. Our Paint Racks were designed to fit into Portable Warfare's Sergeant Bag.
Paint Racks
Your dream space can now be created by using Gypsee Games' Real Wood Paint Racks. You require space to store brushes and tools. Paint Racks are the best way for you to get your paints organized, whether you are a Miniaturist, and Artist, or a Hobby Crafter. They allow you to save time and become more efficient at what you do. These time saving devices increase your productivity by making it easier to paint and create. They increase your ability to be creative because you don't have to unpack and reorganize each time you want to do your Hobby Crafting, you can take that idea you have and run with it. They build your artist skills because you can organize your paints in blending groups, keeping your imagination priority number one.
You are the artist, the dreamer, the believer. Your imagination is brought to life through you, and your skill. Being the best you is difficult. It requires so much, your hobby is demanding, and yet it's the most rewarding thing in life. To birth an idea or concept into reality. Doing that needs to be as seamless, and easy as is possible. Organizing your paints and hobby tools is the best way to do that.
We searched high and low. Traveled to alternate dimensions. Even looked out back under "that rock" mom warned us not to look under. It's true we shouldn't have looked under that rock, eyuck! The search paid off because we found a product worthy of calling a Gypsee Games brand. Our paint racks are made by Gypsee Games. They use nothing but top quality wood in their production. Real wood for real artists. Their durability comes from real wood backbone, it's three ply birch plywood. Nothing but the best for our customers. These paint racks are modular allowing you to build the perfect space, allowing you to dream and create worlds undreamed of until you came along.
Now it's time to come on in, look around and create your perfect hobby space.