Description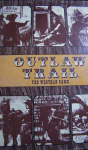 Outlaw Trail brings you the classic villains of the old west. Harken back to a time when men were snakes and women were the damsels in distress. A time when legends like Jessie James and Calamity Jane rules the west by the might of the gun.
Rent this game
If you'd like to rent this game simply stop by our Out Of Print Rental page to understand how you can rent this great game.
Outlaw Trail
Allows you to assume the identity of Jesse James, Butch Cassidy, Calamity Jane or any other notorious outlaw and reenact the historical events that made them legends. Then follow the OUTLAW TRAIL across the United States in an attempt to escape over the Mexican Border with $40,000 [dollars].
Or you could end up as a bounty hunter pursuing  your fellow outlaws for the $20,000 [grand] reward on each desperado — dead or alive. Robber's Roost is the only safe place from a bounty hunter in hot pursuit.
Along the trail be prepared to encounter poker games, dance hall girls, saloon brawls and showdowns with Wyatt Earp, Bat Masterson or "Wild" Bill Hickok. You can also take the risk of being shot by the townspeople in an unsuccessful bank robbery. This leaves you no longer among the living, and you must return to start and assume a new identity.
On rare opportunity FATE CARD will lead you to a hidden Wells Fargo box containing negotiable stock certificates. Other FATE CARDS will bring you into contact with forces, good or evil, beyond your control.
PLUNDER CARDS tell you how much money you acquire each time you rob a bank, train, or stagecoach. And STOP CARDS will delay your race to the boarder. If you're short of cash once you near the border you'll have one last chance to doubl eyour money at the gambling casino in Nogales, Arizona.
Upon arriving at the end of the OUTLAW TRAIL, it's quite possible you'll discover you're a lone Gringo in another country. Don't worry. The manufacturer consulted with the Federal Marshal and guarantees amnesty to all wayward outlaws.
Condition:
Fair/Ex
MFG:
Dynamic Design, Inc.
SKU:
OOP40000
Year:
1972
ITEM:
BGOTDDI
Printing:
Believed to be 1st print.
Rental Fee:
$10.00
Credit:
No new wear complete.
OOP-N-Collectable Games Information Page
Grading Scale
Every item in our inventory has been inspected, very strictly graded, and bagged for its protection.
SW Shrink Wrapped. Still in the original factory shrink wrap, with condition visible through shrink noted. For Example, "SW (NM)" means shrink wrapped in near-mint condition.
Mint Perfect. Brand new.
NM "Near Mint. Like new with only the slightest wear, many times indistinguishable from a Mint item. Board games in this condition may be played but show little to no wear." Close to perfect, very collectible.
Ex Excellent Condition.
Lightly used, but almost like new. May show very small spine creases or slight corner wear. Absolutely no tears and no marks, a collectible condition.
VG Very Good. Used.
May have small sized creases, scuff marks, very small stain, etc.
Complete and very useable.
G Good.
May have medium creases, scuffs, or stains, etc. Complete, but worn. Box worn not broken. Parts aren't missing, may be slightly damaged. Great choice for the gamer, less so the collector.
Fair Very well used, but complete and useable.
May have flaws such as tears, pen marks or highlighting, large creases, stains, marks, a loose map, etc.
Poor Extremely well used and has major flaws, which may be too numerous to mention. Item is complete unless noted.
Notes:
1.) Boxed items are listed as "code/code" where the first code represents the box, and the second code describes the contents. When only one condition is listed, then the box and contents are in
the same condition.
2.) A "plus" sign indicates that an item is close to the nExt highest condition. Example, Ex+ is an item between Excellent and Near Mint condition. A "minus" sign indicates the opposite.
3.) Major defects and/or missing components are noted separately.
4.) Boardgame counters are punched, unless noted. Due to the nature of loose counters, if a game is unplayable it may be returned for a refund of the purchase price. Customer pays shipping to us.
5.) In most cases, boxed games and box sets do not come with dice.
6.) The cardboard backing of miniature packs is not graded. If Excessively worn, they will be marked as "card worn."
7.) Flat trays for SPI games are not graded, and have the usual problems. If Excessively worn, they will be marked as "tray worn."
8.) If you have any questions or comments regarding grading or anything else, please send e-mail to info at gypseegames dot com and we will be happy to assist you.