Description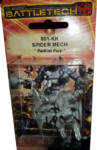 BattleTech – 'Mechs "Spider" (Dark Age)
Spider (Dark Age)
(1) 'Mech supplied with base (unpainted and unassembled).
Commentary:
This is the Limited Edition Dark Age Spider released by IWM. The initial design was conceived by Radicalsingularity. The pose and weapon choice was conceived by Republic's Fury. Its name is RadicalFury. Its product code is 801-KK. The KK pertains to us twins Karl & Kevin… the guys that made this happen.
The decision to make this a Limited Edition 'Mech was done in an effort to create excitement and enthusiasm in the Texas region. We had initially only wanted to offer this 'Mech at the Anime Fest as a thank you for participating in the Ross Hines painting seminar. We had hoped to continue this procedure where each year we release an LE figure for the convention, only available at the Ross Hines painting seminar. With the closing of WizKids it is unlikely that we'll be able to continue this tradition. Since the MechWarrior players are seeking a home, and some are looking to start their collection we decided to release this figure to the public.
There were only 312 of these pieces ever made, ten were given to the IWM employees, and two were given to the sculptor. At the time of this writing there are only 38 of these in the public. Once these are gone there will be no more.
If you're a collector but not a fan of the Dark Age please do not purchase one of these. This was intended to be given out to players that enjoy the Dark Age, and the Age of Destruction story arc created by WizKids.
A special thank you goes to Tony Rivera for his work on making this figure possible. And a shout goes out to Southpaw13 and Darius Dax…you guys ROCK!
Sincerely,
Republic's Fury